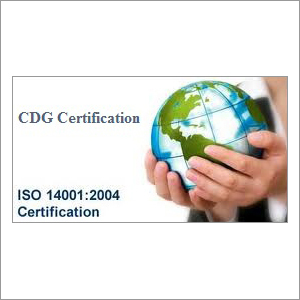 ISO 14001 Certification
Product Code : CDG 23
Product Description
Based at Tollygunge, Kolkata, West Bangal, we are offering our clients ISO 14001 Certification service that is rendered with global standard specifies requirements for environmental management. Our deft professionals are well-versed with environmental policies for implementation and planning in order to provide this certification from the relevant authority. Apaprt from this, we also work on behalf of our patrons to get the offered certification in a hassle-free manner. In addition, our ISO 14001 Environmental Management Certification service can be availed from us at a nominal price range.
Features:

Rendered as per the needs of our patrons
Work in close coordination with our patrons
Appreciated owing to its clients centric approach
Other details:
Companies associated with the responsibility to protect environment through minimizing the effect of their activities
Products and services posing risk to the environment
In agreement with the environmental policy and objectives
Tending to making legislation more stringent & strict
The formation of economic policies and other measures which advocates environmental protection
Serious challenges expressed by stakeholders about environment and sustainable development
Assist the company to devise and apply a policy and objectives
It considers the legal requirements and information about substantial environmental aspects
It is meant for applying all types and sizes of the company and to respond to different geographical, cultural and social situations
The advantages of implementing ISO 14001:2004 can encompass:
Lower down the cost of waste management
Saving the consumption of energy and other materials
Decrease distribution costs
Better the company's image and repute among clients, public and regulators
Customer satisfaction - by dint of supplying the products that satisfactorily cater to customer requirements
Cutting down the operating costs - with the help of consistent improvement in processes and that results in the operational efficiencies
Enhancing the stakeholder relation - including workforce, customers and distributors
Legal compliance - through comprehending how statutory and regulatory necessity affects the organization and its customers
Enhance the risk management - by excellent consistency and risk-analysis of products and services
Higher business credential - by independent verification in agreement with acknowledged standards
Capability to expand business - especially where procurement specification needs certification as a condition to supply
ISO 14001 Standard is based on principle called Plan-Do-Check-Act (PDCA) elaborated as follows:
Plan: set the objectives and processes essential to deliver results in agreement with the company's environmental policy.
Action : put the processes in practice.
Check: check and assess the processes in line with environmental policy, objective, target, regulatory and other requirements, and report the outcome.
Act: bound to consistently better performance of the environment-protection system
CDG Certification Ltd is an accredited provider of ISO 14001 certification. Contact us today for ISO 14001 certification.